Entertain Any Space with a touch of Enchantment and Wonder
Just tap or use the remote to change the Colors

Enhance the elegance of your home with this luxurious Crystal Lamp. With its 3D technology, it creates a diamond-like effect and adds a cozy, inviting atmosphere to any room. Use it as a bedside decor to help you relax and unwind before sleep.
8 hours of Light
Fast Charge allows you to charge for 1-2 hours and last for 5 hours for wireless light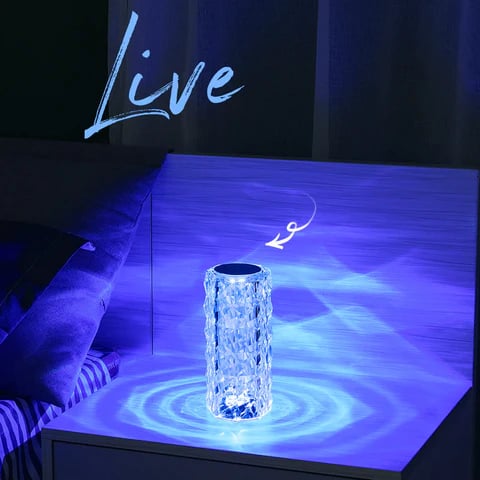 Features:
Smart touch control for easy on/off and brightness adjustment with a gentle tap under the lampshade
Elegant design with beautifully cut crystals, suitable for any room in your house
Unique 3D technology creates a diamond-like effect and adds a touch of glamour
3 light color temperatures to choose from with a 3-color touch switch
Fashionable appearance with clear, smooth lines and bright, colorful refraction of light through the crystals
Check out our Customer Photos:

Leah M.  ⭐⭐⭐⭐⭐
Daniella A.  ⭐⭐⭐⭐⭐
Ashley S.  ⭐⭐⭐⭐⭐

Click on "ADD TO CART" to SAVE 55% OFF TODAY - Get yours now! 
Details: 2022 Fall Release

Height 8.8 inches and 3.5 inches diameter 
3 light colors, 3-color touch switch/16 light colors, touch and remote control switch 16 colors
USB Charging Design
Materials and Care:
Content:

ABS
We recommend using the 5V 1A charger instead of a fast charger (IPHONE CHARGER)
PACKAGE INCLUDES:

1 x Belle's CrystalLuxe™ Prism Lamp
100% Satisfaction Guarantee

 and 

30 Day, no-hassle returns

 

✅
Here at Belleattheball, our main focus is customer satisfaction. That is why we offer a 30-day customer guarantee. If your item, for whatever reason, has any issues, we will send you a replacement with no questions asked.

Please get in touch with our support team at support@belleattheball.com if you have any questions or concerns regarding your package!
Click on "ADD TO CART" to get yours now!