Deep Clean your feet with the #1 Bestselling Foot Cleanser of 2022
On average we walk around 3000 to 4000 steps a day and this accumulates a lot of sweat, friction, and germs which then leads to longer-term problems such as dead skin accumulation, dry-cracked feet, and callus.
With all that sweat and dirt your feet needs a lot more loving: 
Never forget to wash your feet properly with our Foot Cleanser
Simply put soap with water in the cleanser and rub your foot through our CleanseTech bristles that cleans all the impurities on your feet. Really get deep and remove the hidden dirt build-up and exfoliate your feet for a new skin feeling.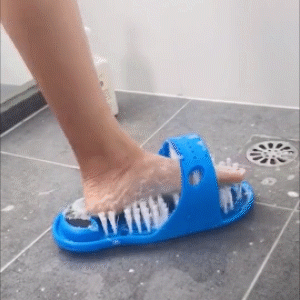 Solve those unattractive foot problems!
Over time and daily use, our cleanser will give you amazing results in a week!
For more severe cases, results should appear within weeks to a month!
Got back pain? Hard to clean your feet?

Our foot cleanser uses our silicone air traps to stick onto any surface! Designed with safety first to avoid any trips or slips! Our Foot cleanser also has a Pedi pad at the end to rub against rougher skin to exfoliate deeper on dead skin build-ups.
Made with Eco-friendly 1000 soft cleaning bristles, that are super soft and effective. Get the cleansing sensation as you rub your foot back and forth for a massaging effect as this encourages blood circulation.
Suitable for any age, which makes this a perfect gift for your loved ones! Gift your man, mother, father, companion, etc.
Click on "ADD TO CART" to SAVE 40% OFF TODAY - Get yours now! 
Details: 2022 Release

Washing feet reminder
Feet cleanser and exfoliator
Feet Pedi pad to remove thicker dead-skin build-up
Massaging and blood circulation effect

Materials and Care:
PACKAGE INCLUDES:

1 x OptiFoot™ Massage Circulation Foot Cleanser
100% Satisfaction Guarantee

 and 

30 Day, no-hassle returns

 

✅
Here at Belleattheball, our main focus is customer satisfaction. That is why we offer a 30-day customer guarantee. If your item, for whatever reason, has any issues, we will send you a replacement with no questions asked.

Please get in touch with our support team at support@belleattheball.com if you have any questions or concerns regarding your package!
Click on "ADD TO CART" to get yours now!